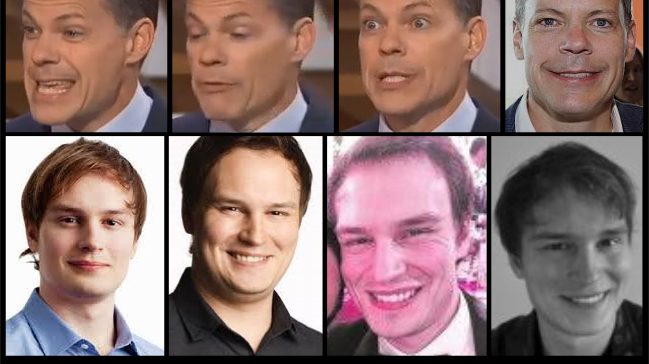 Fake News made a big issue about Donald Trump saying he was in Winfrey Oprah's last show, calling him a liar and denying it happened. As usual, they got it wrong, and once again, millennials forgot to do their homework. Variety's Ted Johnson said that during a rally in Macon, Georgia, Trump claimed to have been on one of Winfrey's final shows in 2011 and that some effort is being made to get rid of the tape of the episode. Ted said, "Trump's final appearance on her show was on Feb. 7, 2011. Her final show was May 25."
Wrong, Ted. Oprah's final show was not on May 25. That was a speech. Here's the difference between 'show' and 'speech.'

Oprah Winfrey's last show was made on May 17, 2011. It was a double-episode extravaganza at Chicago's United Center, with hundreds of celebrities and a paying audience of about 13,000. It was then edited and made into two one- hour TV shows, which aired on May 23 and 24, 2011. The next day, May 25, she gave a speech, and there was no show, no entertainment, no guests, no singing. It was just boring Oprah talking about herself and saying goodbye. Read the clipping below from The Sentinel, Cumberland PA, about the last shows spread over a week, or see the whole article here.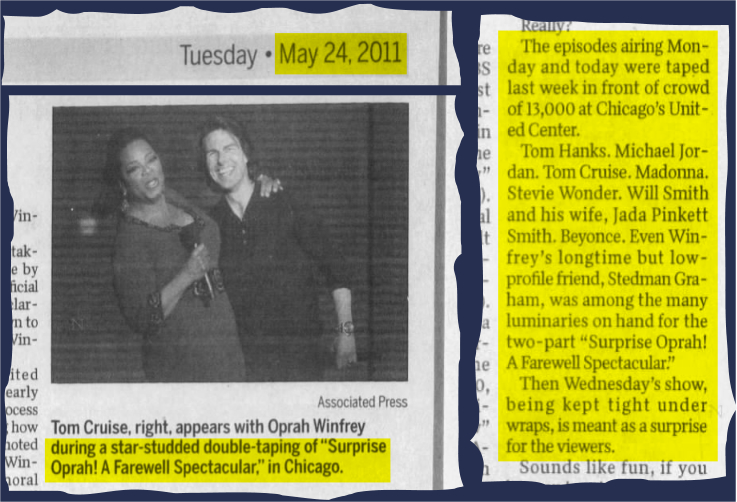 The "Surprise Oprah! A Farewell Spectacular" was a huge event with hundreds of celebs brought in to say goodbye to Oprah, either through performing or talking, and there were way too many to name. It is challenging to find any reference to Trump because it appears that the Left wants to remove him historically from this event if Oprah makes a run for the Presidency in 2020 or 2024. Like the NPCs they are, they decided that footage of Trump hugging Oprah and wishing her well would not help, so as with everything Socialists disapprove of, they tried to wipe it from the pages of history.
I located this page – one that has not been cleansed away yet. Please scroll down to see 46 celebs giving their farewell message to Oprah. They were all in the show, and there were hundreds more. Trump is the 21st listed.
John Travolta, Tyler Perry, Julia Roberts, Tom Hanks, Chris Rock, Bob Greene, Mary J. Blige, Nicole Kidman, Hugh Jackman, Jennifer Aniston, Barbara Walters, Diane Sawyer, Jerry Seinfeld, Queen Rania, Piers Morgan, Josh Groban, Paula Deen, Usher, Sissy Spacek, Shirley MacLaine, Donald Trump, Janet Jackson, Wynonna Judd, Naomi Judd, Holly, Hunter, Marie Osmond, Roseanne Barr, John Bon Jovi, Melissa Etheridge, Celine Dion, Sir Elton John, Jon Stewart, Tina Fey, Russell Crowe, Whoopi Goldberg, Dolly Parton, Rosie O'Donnell, Dr. Oz, Suze Orman, Dr. Phil, Kirstie Alley, Lisa Ling, Nate Berkus, Fergie, will.i.am and Jane Fonda.
In case it is deleted, here is a scrolling 'screenshot' of the page, including Trump and his message to Oprah:
Summary
When Fake News reporters saw Trump's statement about being on Oprah's last show, they scrambled to their iPads to check when Oprah's "last show" was, and read that it was May 25, 2011. Not bothering to double-check this, they began spewing their hatred at Trump, calling him a liar.
This video of Trump's rally, Nov. 4, 2018, in Macon, Georgia, is set at the 37:25 mark, where Trump says the following words [emphasis mine]:
Oprah, when she ended her show, had her five most important people, I assume, her last week. You remember the last week? Well, I was on her full show in the last week. I think they're trying to burn the tape. Are they trying to burn the tape? But Oprah was here to endorse Stacey, and I'm here to endorse Brian.
So once again, Trump was right. It isn't easy to find actual videos of the show, so I think he was also right about the burning. This low-quality video shows about twenty minutes of the production with ads, but that is not much out of two hours. These promos for part 1 and part 2 of the show are better but short.

It was all about Oprah
It was clear that people were not impressed with Oprah's last appearance – a boring speech. People remember "Surprise Oprah! A Farewell Spectacular" as her last show. This clipping from the Chippewa Herald-Telegram, Wisconsin, May 25, 2011, sums it up: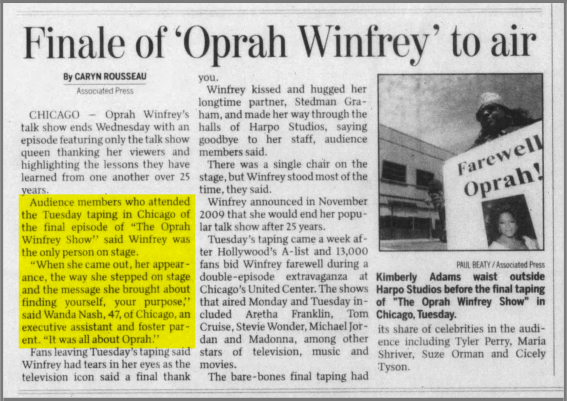 Hundreds of reporters proudly told the world what a liar Trump was – how dare he say he was on Oprah's final show! The audacity! The outrage! How about Sam Clench, from Australia's news.com.au, in this article, published today? Sam says:
Donald Trump's bizarre lie about Oprah Winfrey… today the US president told a weird lie about her. He… told a bizarre fib, claiming he had been invited on the Oprah Winfrey Show during its last week on television because he was one of her five "most important" guests…That is quite simply not true. Mr Trump did appear on the show, along with his wife Melania and five children, on Monday February 7, 2011. Its last episode aired in May of that year.
So who are these knuckleheads Ted Johnson and Sam Clench?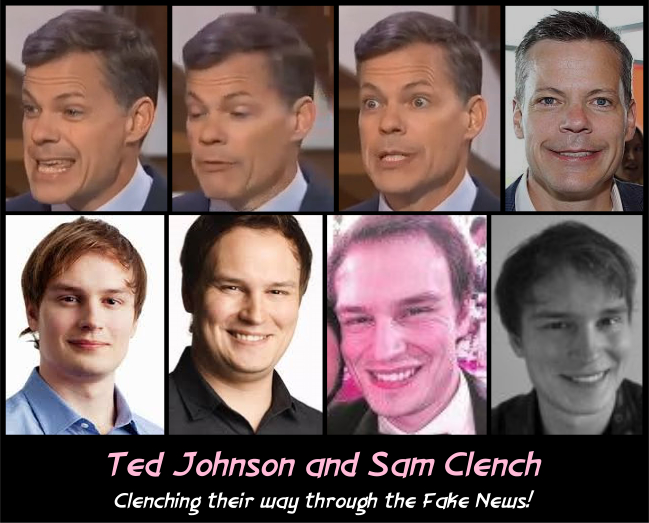 Hmm. They sure look old and wise. We're all safe with them telling us the news.